YOUR BODY

by
Joyce Cavalccante
Texto em Português


Having as natural resource an antibody, inserted element, denied, at rest, sore and ashamed at the most legitimate sensations, I attempt to build from your body another body for myself. Your body havocs mine, a temple of solitude for so long. Your body, invader that makes me content and provided for. Of myself and of my rights to pleasure there is nothing I'd demand, as long it is with you that I fulfill the rite. Your skin alters my temperature until the day after if I am careful not to shower. Thus I keep your scents, prolonging this epidermal love.
Long live you body of narrow hips made in the masculine shape. And your nimble waist moving for your enjoyment which provokes mine, bathing me beneath you in the configuration of a strait cave, which on purpose I'll tighten even more to surprise and prompt you to smile. Searching for and learning how to find me, you fumbled the body of many women with your piano player's fingers. I lay, because of this, a kiss on your comfortable belly, a gesture of toast to life.
Wish this never end. But, when it ends, I'll make a pillow of your armpits, moaning suave and different than those scandalous, desperate moans which, yet not long ago, obliged you to cover my mouth. Until your chest pounds in a faster, faster, faster compass, I won't stop to present myself piercingly. Nevertheless, when I feel you're growing bigger yet, I'll be silent. It is time to be still and accept you in solidarity. Silence. This is my man disassembling in one absolute orgasm.


Copyright © by Joyce Cavalccante
Translated by Hannah Veronica Esaki
---
United States Literary Representative is Veritas Literary Agency
---
Text from the book "DISCOURSE OF THE ABSURD WOMAN "

CLICK TO ORDER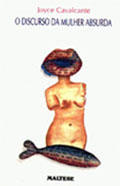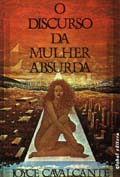 ---
---
---
---
---

THANK YOU FOR VISITING US
[ MAIN ]
[ PORTUGUESE ]
[ FRENCH ]
[ SPANISH ]
[ ITALIAN ]
[ EVE'S RIB ]
[ FROM WITHIN OUTWARD ]
[ FREE & OBJECT ]
[ MYSTIC FRAGMENTS ]
[ DISCOURSE OF THE ABSURD WOMAN ]
[ INTIMATE ENEMIES ]
[ LINKS ]
[ ARTICLE ]
[ REBRA ]
[ MAIL ]
[ ORDER ]
---
---
---
---
---